Timeline & FAQ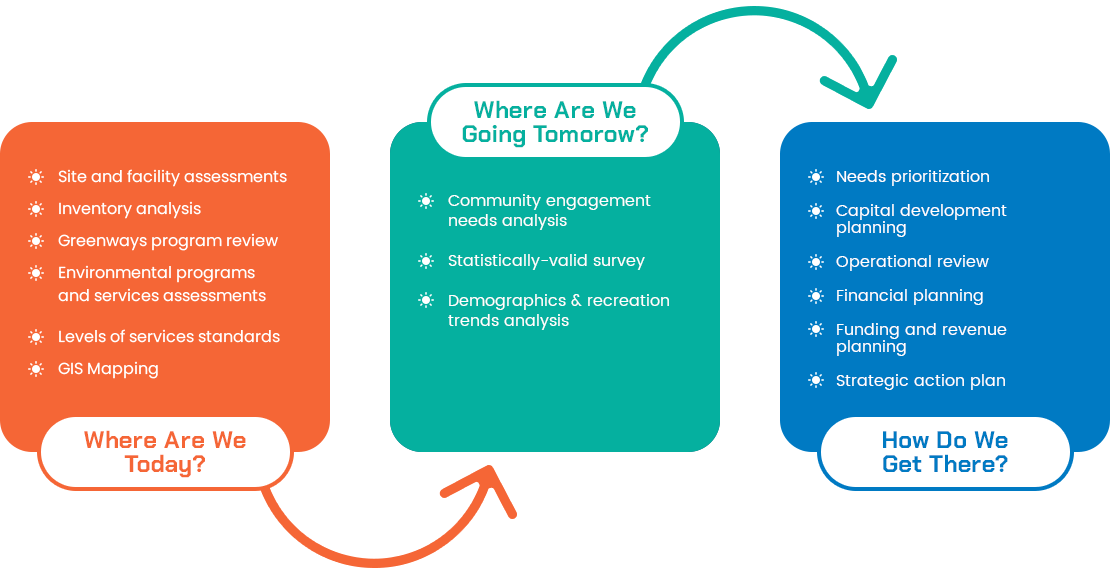 FAQs
What Is The Duration Of The Project?
The project is anticipated to be completed by March 2022.
Can Anyone Participate In This Project?
Yes, this is a community-input driven process and the outcome and future recommendations will be driven by the needs and vision articulated by the community members.
How Do I Participate In The Process?
Through the Home Page and Key Events page, you can provide open-ended suggestions, respond to the online survey, know the dates for open public meetings and even share feedback through social media on Facebook and Twitter.
Who Is Responsible For This Plan?
PROS Consulting, Inc., led by their Vice President and Principal Consultant Neelay Bhatt with strategic support from Leon Younger, Phil Parnin and Brayton McClure, is leading the process. The Consulting Team includes Pamela Adams and Associates (Public Outreach), ETC Institute (Statistically-Valid Survey), Barth and Associates (Visioning), Chen Moore and CPZ Architects (Parks Inventory and Park & Facility Assessment).
Where Can I Find Information For The Project?
Project information including key meeting dates, completed technical reports and final documents will be made available to the community through this project website – www.betterparksbetterbroward.com
What is #BetterParksBetterBroward?
We are using this website and the hashtag #BetterParksBetterBroward to accentuate the need for community-input. We truly do want your suggestions and ideas so that we can put together a Master Plan that meets the needs of our community members. By tagging your social media posts with #BetterParksBetterBroward we will be able to aggregate your ideas and also hopefully expand the reach of our input beyond the traditional meetings we already have scheduled.